To ensure the security of a DIY rabbit hutch, cage, or exercise pen, there is no alternative to the top-quality cage wire.
After reviewing the top brands and best-seller cage wires, I have made a list of the best cage wires for rabbit habitats. I consider my real-life experience along with the buyer review to sort out the list.
No doubt, you will get a list of top-class rabbit cage wire here. Apart from the review of the market-leading cage wire, you will get a brief buying guide at the later part of this article along with the answer to some common questions.
Without further ado, let's jump on the main topics. 
Comparison Table for the Rabbit Cage Wire
In-depth Review of the Best Rabbit Cage Wire  
Cage wire is the most important part of a rabbit's habitat. Whether you want to keep your rabbits in the indoor or outdoor hutch, you should buy the best wire.
This is a precise guide. I believe you will be benefited from my research.
I have written a comprehensive guide on the best outdoor rabbit hutch recently. You could read the article here.
You will find different types of cage wire (i mean mesh size) in the market. But all are not perfect for outdoor rabbit cages. I know you are looking for a cage wire to ensure more safety in an unsafe condition.
Whether you have a baby bunny or an adult, if you want to make their cage more secure, you could rely on my top pick. 
This silver color cage wire comes with ¼ inch mesh. That means it is much more secure than other cage wires. There is no chance of a predator attack here.
This hot-dipped galvanized cage wire ensures the robust security of your rabbit cage indeed. Moreover, this cage wire is long-lasting and entirely rust-free. 
So, you could use this cage wire for outdoor purposes as well as for indoor purposes.
Pros  
23 gauge galvanized steel wire
Double zinc coated 
Uniformly welded
lightweight and Rust free wire
Cons
Not a heavy-duty cage wire
This is another popular and sturdy cage wire from YARDGARD. However, it is my second pick for two reasons. One is the mesh size and another is quality and long-lasting. 
This cage wire comes with ½ inch mesh size. That means, there is no chance of a predator attack here. 
Anyway, it is made with galvanized and zinc-coated steel. So, don't worry about rust anymore. 
Pros
Double zinc coating 
Very sturdy and solid cage wire
Perfect for outdoor rabbit cage
Maximum Rust resistance
Smooth uniformed edges
Cons
If you are looking for a comparatively larger mesh-sized cage wire, this one is for you. However, the mesh size of this cage wire is 1 inch by 1 inch. It is a long-lasting product indeed for its rust-free feature.
Apart from the rabbit cage, you could use this fencing wire for different purposes like property demarcation, protecting seedlings, gardens, and others. 
Pros
zinc coating cage wire
Rust free 
Suitable for all size rabbit cage
Perfect for garden, property demarcation
Cons
Not so sturdy for Outdoor Hutch
This one is another quality cage wire from YARDGARD. It comes with almost the same features as the previous one. 
The main difference is the mesh size. If you are looking for a small meshed size cage wire for more security, this one could be your right choice. 
The mesh size of this cage wire is .5 inches by 1 inch. So, you can ensure more safety for your bunny. 
It is rust-free and galvanized before welding. So, you could rely on this quality product. 
Pros
Rust free 
Perfect for rabbit playpen and outdoor hutch
Cons
Well, this one is the last cage wire on my list. If you are looking for a cage wire to protect your garden from the rabbit, you could use this Galvanized Wire Fence. 
Since it comes with ½ inch mesh size, your bunny can not enter the seedlings area of the garden. 
By using this wire fence, you could save your vegetable garden both from your pet rabbits and wild rabbits also. 
Pros  
Rust free 
Perfect for Outdoor Hutch and exercise pen 
Perfect for vegetable garden and property demarcation
Cons
Required Rabbit Cage Wire Tools
If you are not a professional, only the cage wire isn't enough. You need at least two different tools to organize the cage wire.
They are Tin Snips and Heavy Duty Stapler.
Though these tools are available in most of the houses, if you don't have them, you could follow my recommendation. 
Tin Snip
Now you have the cage wire. But you need to cut the wire according to the size. 
It is dangerous to cut the wire with a bare hand. Even, You might be insured. So you could buy a metal snip. It makes your job easy indeed.  
Well, This MIDWEST Bulldog Aviation Tin Snip is one of the best sheet metal snips in the market. 
This heavy-duty tool includes a threaded thru pivot bolt that ensures the two slides are in alignment for a lifetime. 
So you will get the same experience from the first cut to the last cut. 
This high temper snip can cut up to 18 gauge steel. That means you could do almost every household work with this quality Tin Snip. 
Heavy Duty Stapler
This one is my last recommended tool. However, you could do the job by using a hammer. 
But I recommend you not to use a hammer. If you are unfamiliar with handling wire mesh, there is a high chance of injury here. 
So you could get a heavy-duty stapler. And this WETOLS Staple Gun is my top favorite.
This is a 3 in 1 multi-functional staple gun. With this package, you will get 2400 pieces to staple along with the staple gun. 
Last but not least, it is straightforward to operate. You can do the job perfectly, even in your very first experience. 
How to Select the Top-notch Rabbit Cage Wire? 
Choosing the right cage wire is the most crucial part of making a rabbit hutch or cage. You want to make sure the maximum safety to your bunny. 
Cage wire is not only for the predator, but it prevents escaping your bunny also. 
So, choosing the right type is essential. Otherwise, you will be the loser. 
What is the right shape for rabbit cage wire?
Though you will find different shaped wire mesh in the market, they are not suitable for rabbit cages. 
You should consider a rectangle shape rather than hexagonal, octagonal, or others.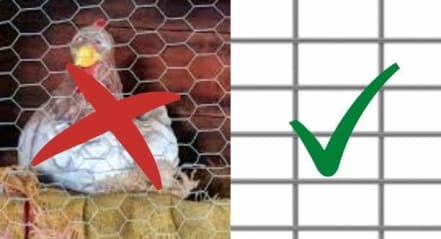 Types of cage wire 
Well, I've already mentioned that you would find different types of cage wire. But all of them are not worthy, indeed. Here is a short discussion on the Common types of rabbit cage wire.
Galvanized cage wire
Galvanized cage wire is the best type among the cage wires. Most cage builders prefer this type. 
Galvanized cage wire is made with sturdy and long-lasting steel. It is not only steel but there is also a coat of zinc here to prevent rust. 
Metal cage wire
This is a widespread type. For short-term use, it is good. But in long term, it is just a waste of money. 
You will find rust problems after using some days. Ultimately, you can not use it anyway. So, you should avoid plain metal cage wire. 
Garden cage wire
These are included in the galvanized cage wire. The manufacturers use a different name for selling a particular purpose. But the materials are the same. 
FAQ
What is the perfect size of rabbit cage wire? 
You know different sizes are available in the market. Usually, the dimension of the rabbit cage wire is 24-inch in height and 25 feet long. Apart from this standard size, other sizes are also available. 
Anyway, it's not a significant matter what is the size. You have the flexibility to cut the wire with a tin snip.
What is the Price Range of Rabbit cage wire?  
Like the size, prices also vary on quality and stability. You could get a regular and small-sized wire cage only for 20 bucks. But for upgraded and long-lasting cage wire you might spend up to 50 bucks. 
What kind of wire do you use for a rabbit cage?
You could use a 14 gauge, 16 gauge, 19 gauge, or even 23 gauge wire for your rabbit cage. Actually, It depends on the types of rabbit habitat. If you want to make a DIY outdoor rabbit hutch, you should consider at least 16 gauge wire.
Even you could use 23-gauge wire for more safety.
For indoor purposes, if you want to build a cage for a baby bunny, 14-gauge wire is enough. But I recommend using at least 16-gauge cage wire for more safety and sturdiness.
Are wire cages good for rabbits?
Yes, Wire cages are good for rabbits. But if you keep your bunnies on the naked wire floor, there is a high chance of wounds in their feet. So, you should use a floor mat or at least hay on the floor of the wire cage
Can Rabbits Bite Through Chicken Wire? 
Rabbits tend to bite everything. Metal-wire like a chicken wire can withstand the rabbit's teeth. So, you can use the chicken wire for making a rabbit hutch or cage. They are safe for bunny habitats.
Final Thoughts
Long story short, for making a DIY rabbit hutch or cage, you need a quality rabbit cage wire as well as the necessary tools. Without any doubt, You could rely on my top picks. I can assure you that you will be the gainer. 
Please don't compromise with the quality of the cage wire. The security of your rabbit cage mostly depends on this single fact. 
Thanks for reading and don't forget to share.